Dr. Nicolas Schillinger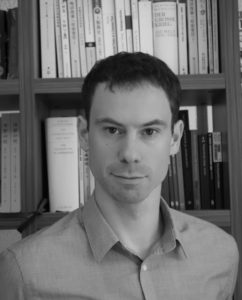 Nicolas is a cultural historian of China, specializing in the history of science and the history of masculinity in the nineteenth and twentieth century. He received his Ph.D. from Heidelberg University, where he was a member of the Cluster Asia and Europe in a Global Context. Prior to joining the University of Erlangen-Nuremberg, he was a visiting professor at Free University of Berlin. His research and teaching interests also include the history of the Qing dynasty, Republican China, China during the Cold War, the body, medicine, graphic novels, and the military. His first book, The Body and Military Masculinity in Late Qing and Early Republican China: The Art of Governing Soldiers, deals with military reforms and its cultural, social, and political consequences as well as the transformation of masculinity concepts in China between 1895 and 1916. As a member of Sin-aps, he will work on a book project tentatively entitled Scientific Warfare in Republican China.
Institute for Near Eastern and East Asian Languages and Civilizations
Chair for Sinology with a focus on the Intellectual and Cultural History of China (Alexander von Humboldt-Professor)
Room:
Room 00.331
Hartmannstraße 14, D3
91052 Erlangen
Research Project
In the 1930s, modernizing elites in China demanded to "scientize" Chinese society in every regard, including a science-based education in schools, policies against superstition, the funding of research, or the promotion of hygiene and biomedicine. This discourse also affected the military sphere and produced the notion that future wars would be "scientific wars". With the aim to contribute to the history of science in twentieth century China, the project deals with the role of scientific knowledge and practices in the army prior, during, and in the aftermath of the Second Sino-Japanese War (or Anti-Japanese War of Resistance). Despite established narratives of a general Chinese backwardness, science played a crucial role for the Nationalist government in the war against Japan, and particularly in the military sphere. The project is about the question of how Chinese scientists and scientific knowledge influenced the National Revolutionary Army and the Second Sino-Japanese War, focusing on military-related research, practices, applications, and discourses in the fields of biomedicine, bacteriology, chemistry, and physics during the Republican era from 1927 to 1949. Rather than comprising a study in the area of military history it is situated in the history of knowledge and cultural history, focusing on the role and meaning admitted to science in assessing, measuring, quantifying, optimizing, protecting, and annihilating human life and human bodies.
Publications
Authored Books
Journal Articles
Book Contributions